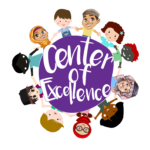 Hey! I am a two year old teacher at Center of Excellence. I have a BS Psychology from Belmont Abbey College in Belmont, NC. My ultimate goal in life is to save/help people suffering from mental health issues and to change the way that mental illnesses as whole. a. I enjoy racing, working on my car (SALLY THE STANG), painting, and working with resin.
I have been working in and around COE since it opened in February 2017! I have floated to all of the classrooms in COE over the years and i'd have to say, THE PENGUINS ARE THE BEST CLASS!! I have been in the two year old class for the past two years and it has given me some of the best memories! I love ALL of my penguins from the bottom of my heart, nothing makes me happier than to watch them develop, learn, and grow into our future!!
In the Penguins class I like to focus on their cognitive behavioral as at the age of two they're at a critical development stage. They are developing language, mental imaging, learning to problem solve, and so many other essential life skills. With the penguins, I like to focus on things like self guided discovery (sensory bins, circle time, i spy, etc), problem solving (think before you act, what would happen if…, etc), putting actions, things, concepts to words, and so many other things! A major point in our classroom is potty training. It is very important to me that I encourage and help my penguins transition from "little kids" to "big kids" as this is a huge milestone in any child's life! If you work with me, I guarantee your penguin will be potty trained in a week!
The penguins are my pride and joy, I can assure you that they will be in the best hands possible!