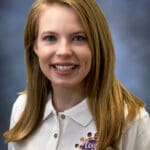 I will be your child/children's Pre K teacher. This year your child will face challenges that will help them grow academically as well as emotionally and socially. Together the students and I will set classroom and individual goals. We will learn the importance of making progress and growing at our own rate. As a class we will respect each learner and their needs. 
I graduated from East Carolina in 2014 with a Bachelor's Degree in Elementary Education and a concentration in Child studies. Upon graduating I have spent my time in a range of classrooms as young as the 1 year old room and as old as 1st grade. My sweet spot or calling seems to be Pre-K. It balances itself with just the right amount of learning through play. This is more than a job to me; it is a career choice, a lifestyle. I enjoy my time in the classroom just like the students. Together we bond by sharing moments; laughing, learning and sometimes crying because all feelings matter.
I have chosen to continue my education as I am currently wrapping up online classes to receive my Birth-Kindergarten Licensure. I invest in your child/children the same way I want someone to invest in my own children. I strive to create a close classroom community with family involvement.