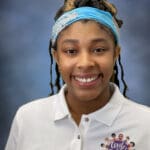 Here's a little about me, I suppose you could say I was born to take care of children.  My family refers to me as the baby whisperer.  I spent much of my formative years working as a volunteer in the children's ministry at my grandfather's church. 
I always seem to do exceptionally well with infants and toddlers.  Then like most teens, I did lots of babysitting. Fast forward to when I had my first daughter, Patience.  There was something way different than just babysitting. Having her and my other daughter Blake opened my eyes up to so much more than I could ever learn with babysitting. I was responsible for these lives that I was gifted with.  
I approached working with children  differently.  I treat each child in my care as if they were my own.  Every child deserves to feel a continuation of care from parent drop off to when they arrive to pick up their child. 
Greetings!