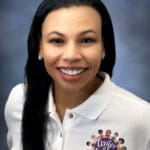 Born and raised in NJ, I transitioned to North Carolina in 2005 where I was able to pursue my nursing career as a Registered Nurse. I have been a nurse for 15+ years and have worked in various fields of nursing. Nursing is truly one of my fondest passions! I truly love  taking care of people. 
There is something about being able to help and understand people that truly warms my heart! As a working mom, my husband Ty and I found it complicated to find a  quality child care center that we felt comfortable with leaving our most prized possession with while we went to work. Therefore we decided to open a COE along with my mother-in-law Cyndi. We wanted to provide quality childcare to working families. To give children a home away from  home! We want not only  our children but ALL children to be happy to come to school and for parents to have a peace of mind while leaving their children. 
Even though I am one of the owners, it is not uncommon for you to see me at the center when I'm not working loving on the children of COE. I love to see their smiles, feel their tiny hugs. I enjoyed our conversations about their dog, weekends at grandmas, new sneakers and everything else  under the sun.
I have three children and the cat named Monroe  a.k.a. Roe as my son calls her. I enjoy spending time with my family, I absolutely love my peloton, bowling, poetry and of course shopping. Laughter can be the best medicine at times!